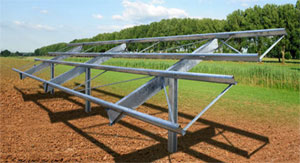 Vikram India Limited ( VIL) is one of leading manufacturer and exporter of complete line of tea processing machineries across the globe since 1974. Its unwavering focus on providing premium quality to its customer in one of the key drivers for its remarkable success. Vikram Group has diversified into different business sectors such as manufacturing of Tea Processing Machinery, Textiles, EPC Solutions and the green industry of Solar Power projects. Vikram India Limited has an ISO 9001-2008 Certification.
The present capacity of Vikram India ltd, Howrah plant is 24000/- MT per Annum of Module Mounting structur( M MS ) along with the upcoming HOT DIP Galvanizing facility . The plant has provision for increasing its capacity by double in shortest time. We are manufacturing MMS in an eco-friendly environment and we are also a member of INDIALEAD ZINC DEVELOPMENT ASSOCIATION ( ILZDA ).
It also offers customized Project Consultancy Services and Training, presently involved in manufacturing of Module Mounting Structure ( MMS ) for mounting the solar panel based at Dhulagarh, Howrah in West Bengal. Vikram Solar is the flagship company of the Vikram Group.