The VIKRAM make Weigh Feeder has been designed to feed the right quantity of material as per the process requirement. It is custom designed to suit the material conveyed, process and the working conditions. Using a time proven technique, which involves high precision weighing and speed measuring principles coupled with a PLC and VFD. It provides a reliable closed loop control system for the feeder. The ultimate goal, to control the feed rate to the set parameters, is achieved by the PID program in the PLC.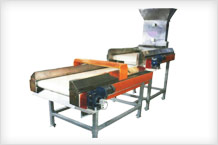 The system is PLC based and hence reliable.
High precision sensor load cells improve weighing accuracy.
Skirt board avoids flooding and spillage of material.
Volumetric feed provision in case of emergency.
Feed setting possible from main panel as well as from local panel at field.
All parameters can be viewed on HMI screen.
Due to double stage of weigh feeder, the 1st stage can receive excessive uneven load, resulting 2nd stage can maintain high accuracy level.
Click here to contact us