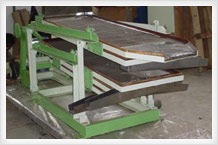 Arnot sorter from Vikram India has a sorting capacity of up to 1500 Kgs. The machine with its galloping motion ensures smooth sorting without greying the tea grains. The trays are made of teak wood and are fitted with wire mesh.
Design Type

Pucca sorter machine with rendering galloping motion which saves tea while traveling on the screen from shuffling and becoming Grayish

Hopper

Out of Stainless steel, fitted on LH & RH pedestals as such that the stored tea do not get grinded in result saving the bloom. Beater provided on tray assembly to creates little vibration on teas through a rubber diaphragm forming lower stop of the hopper, to assist the flow of tea without obstruction.

Trays

Made of season teak wood fitted with wire mesh, all the 5 trays are of same size hence inter-changeable. The first two trays rubber bouncing balls arranged in rubber cord fitted on the bottom. These balls strikes the wire mesh very gently at every stroke of the crank, to prevent clogging of the wire mesh.
Capacity = 1500Kgs.
Click here to contact us