Product & Services
CTC Tea Processing Machinery
Orthodox Tea Processing Machinery
Green Tea Processing Machinery
Garden and Plantation Equipment
Services
Module Mounting Structure
Home
Product & Services
CTC Tea Processing Machinery
Sorting
CTC Tea Processing MachinerySetting Global Benchmarks In Tea Processing Machinery Industry
Sorting
Jigger Shifter
Auto Batch Weigher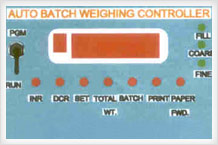 The Auto Batch Weigher from Vikram is a microprocessor based, single load cell weighing system that ensures accurate and reliable weighing of tea from the dryer mouth. The unit is computer compatible and is fitted with a battery to withstand power fluctuations.
Features

System accuracy is better than ± 0.025.
Digital circuitry for error - free operation.
Easy and minimum maintenance.
Saves floor space and cost of labour.
Battery in SMPS to withstand power fluctuations.
Built in real time clock and battery back up to continue sequential operation during power failure.
Digital display of total weight and current weight.
Dust proof cabinet for the electronic controller for trouble free operation. Glass window for easy viewing of displays.
Facility for resetting totalized weight.
Unit is computer compatible.
Alarm hooter incorporated in enunciation mode in case of Power Failure.
Click here to contact us
Pre-Sorters
Slow Speed Fibre Extractor
Trinic Sorters
Vibro Screen Sorters
goto top